ABOUT GLP
Founded by Udo Künzler in 1994 and headquartered in Karlsbad in Southern Germany, GLP (German Light Products GmbH) is a leading manufacturer of cutting edge lighting technology equipment and remains at the forefront of LED technology within the entertainment lighting sector.
The company's award-winning X4 series has become a standard around the world, specified by top LDs for its versatile and packed feature set. Constantly expanding its product range, GLP is committed to bringing environmentally friendly lighting technology to designers without expecting them to compromise in their artistic expectations.
In 2009, GLP purchased the German video company G-LEC and increased its global presence by establishing a subsidiary in Los Angeles, USA, and in Hong Kong the following year. Entering the current decade GLP continued to expand its horizons by setting up a new Nordic office, based in Sweden.

The KNV system from GLP brings a whole new dynamic to entertainment lighting, groundbreaking in both design and functionality. The two variants, the KNV Cube and the KNV Arc, work as independent units or combine seamlessly together. Providing a whole new level of versatility and freedom in design, all in an outdoor rated housing.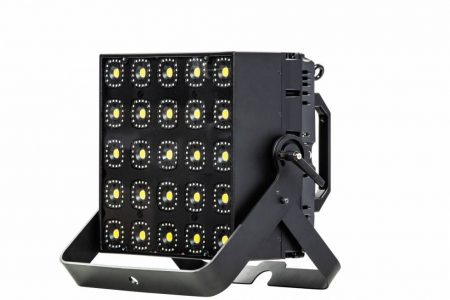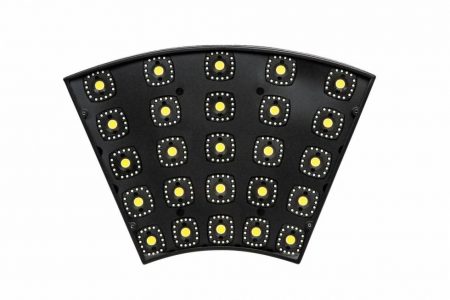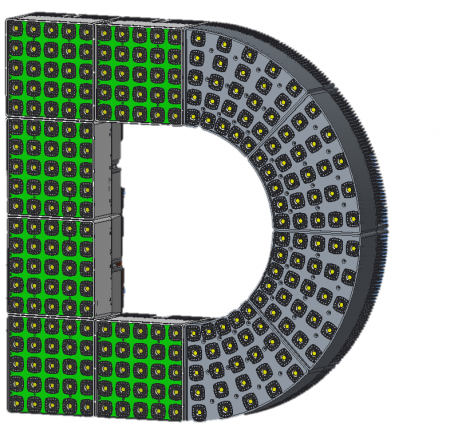 Light Source
25 hyper bright 30 watt, white LED, each surrounded by 16 RGB LEDs
50,000 lm
Control
Protocols: DMX 512, ArtNet, sACN
Mode: 7, 10, 23, 35, 40, 56, 102, 202
Variable PWM, up to 38khz
Effects
16 bit RGBW color
16 bit electronic dimming
Variable strobe: intensity, flash rate, flash duration
Connectors
Power: Neutrik True1 input and output
Data: Neutrik Ethercon input and output
Operating Conditions
IP54 rated
Maximum ambient temperature: 113°F (45°C)
Mounting Options
Floor stand
Hanging bracket
Any orientation
Frameless design allows units to be seamlessly coupled together.
Shipping
Cardboard box
Flight cased tourpack
Housing Colors
Standard color is black
For other colors please contact sales department
Dimensions
(L x W x H)

KNV Cube: 7.2″ x 9.8″ x 9.8″ (18.3 cm x 25 cm x 25 cm)
KNV Arc: 7.1″ x 15″ x 10.5″ (18cm x 38cm x 26.6 cm)
With yoke attached: 7.1″ x 15″ x 10.5″ (18 cm x 38 cm x 26.6 cm)
Net Weight
KNV Cube: 20.5 lbs ( 9.3 kg)
KNV Arc: 21.3 lbs (9.7 kg)